So many choices to be made!
Even though it feels like we've only been engaged for a few days, we are making some big decisions about the wedding.
Why?
Well, we want to do early summer, so that means that we need to book venues and key vendors far in advance to make sure that we get what we want. Since we settled on a location for what I like to call our mini-destination wedding, we needed to get cracking!
Which leads us to this past weekend. Boy, the parents, and I took a trip up to good old State College, to visit the PSU wedding sites. We stayed at the Nittany Lion Inn, and I was fully prepared to sign on the dotted line for a reception there. I worked there when I was in school and knew exactly what the space looked like all decked out for a wedding.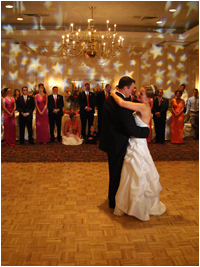 Easy, right? Wrong.
Apparently, you cannot reserve the ballroom at the Nittany Lion Inn if you are having a small wedding (read: less than 200 people). Are you kidding me? I was tres dissappointed. After a longing look at the ballroom all set up for a gala event, we headed downstairs to the Boardroom: the NLI's only possible site for a wedding our size.
MammaSez loved it, PappaSez liked the bar, but Boy and I were both underwhelmed. The carpet has been redone since this photo and it's now a distinct Nittany blue. The walls are beige and maroon with mauve accents. The ceiling... I really don't want to talk about the ceiling.
Basically, it's a perfectly fine space that just didn't seem us.
Less than happy, I headed back upstairs to join our catering contact and tour guide (we'll call her Hope) for some tea. She seemed nice enough, but had come off a bit chilly in our initial minutes becuase she got right on with the tour after some very short introductions. The sit down really helped. She went over everything in detail and took the time to get to know all of us and what we really wanted from our wedding.
Like I said, it really helped. Because I had been feeling a little blah about the whole thing. We were going very quickly, and she kept saying things like "and this is where the bride and groom usually stand for pictures..." that just made me feel like we would get wedding package C. Talking helped that.
We wrapped up our tour of the NLI with a quick look at a possible rehersal dinner venue: the Alumni Fireside lounge.
It's a nice space with wood paneling, a large lobby, and an open terrace where guests could enjoy a light buffet or heavy snackies with cocktails. Bingo. Plus, MammaSez gets the historic grandeur of the NLI for at least part of the wedding. The picture above is of a different courtyard of the NLI, but you get the general idea. (salute)
Great, one decision nearly made. Up next: we hit the road in search of the Penn Stater. Hopes are not high... but can Hope change our minds?