Sorry, that was corny.
I've completely fallen in love with Ranunculus, yet another flower that I cannot have (without big cost) for my wedding. Since I'm still thinking about arranging flowers myself, I need to start reseraching what will be in season for my wedding.
My goal? Have a flower plan made and in hand for this July 4th weekend, so I can try out the options with what is really available at my local wholesaler.
Crazy? Maybe. But it will give me something really fun to do during the summer, and I like that.
So according to
this
and several articles I found when googling, these are the pretty flowers which bloom in the summer! (at least the ones I like)
Asters
These are pretty and have a wildflower feel to them. They'd be great for a garden wedding!
Cosmos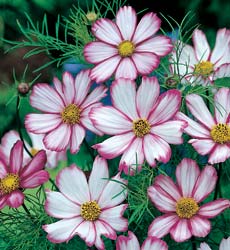 Another garden flower. These are very pretty and come in lots of colors.
Calla Lily
I know, I know. Brides kill for Callas. For some reason, they're not doing it for me, but they are beautiful.
Dahlias
Definitely lots of options here. They don't feel very formal, but I'm sure they can be dressed up.
Freesia
This is my first big winner! I had lots of Freesia scented things from Bath and Body Works when I was a teenager, but never knew what the flower looked like. They are beautiful and would make a great addition to a hydrangea bouquet...
Gardenia
I can't believe that I forgot these pretties when thinking of white flowers. When the family and I lived in California, we had a huge flowering gardenia bush/tree/thing along our front walkway. They're a lovely compromise between a rose and a peony.
Gladiola
A nice option for height, and I know that they are available at the wholesaler I have in mind. I worry about snapping them on the trip though.
Hydrangea
Feminine, easy to get (they grow in my parents' yard), and very wedding-y. I'm sure they'll show up in some way.
Lisanthus
Another contender. In this picture, the white are roses and the purple are Lisanthus. Evokes a similar feel of the Peony, less structured than a Gardenia.
More to come later, but for now, which do you like best?